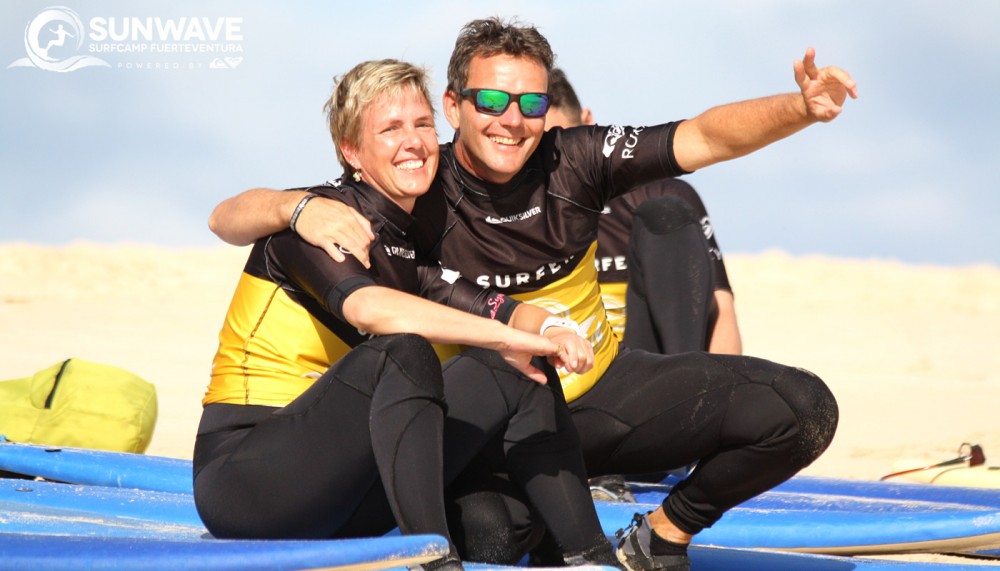 It's never too late – Learn to surf as an adult on Fuerteventura
If you think of
surfing
, many of us have this particular picture in mind:
beautiful beaches
, big waves and sun-tanned, well trained, but first of all YOUNG surfer boys and surfer girls. For the most part, they're surfing since they were little kiddos, so surfing truly became kind of a second nature to them.
But surfing is not just a sport for young people, it's perfect for people of all ages.
Surfing
trains your sense of balance and the different muscle groups like arms, shoulders, back, belly and legs. At the same time, surfing is not just good for your body but also four your mind, true to the slogan: "
You're just as old as you feel
". And to be honest: There's nothing better than this incredible feeling of pure happiness that is rushing through your body when you're riding on that one perfect wave!
That's why more and more
adults start surfing
as well. Although it doesn't matter if you're living close to the ocean and need some physical reconciliation after work or if you can just go surfing when you're on vacation. But for sure it's not as easy when you want to start surfing as an adult as it would be for kids. When you're younger, you're learning much faster – grab a kid that's interested in surfing, put it on a surfboard and you'll see that this kid's gonna stand on the surfboard and ripping the waves after a short time. For adults, it normally takes a bit longer to learn surfing, maybe because they're normally more cautious and anxious than children (for sure these are not the worst properties ;) ). Furthermore, it's way more easier for kids to learn new stuff than it is for adults. Nevertheless it's worth it to learn surfing as an adult. You're out there in the nature, get exercise, have fun and can get rid of all those stressful things of your daily routine for the time you're in the water. And if you're riding on a real wave for the first time in your life, there's nothing comparable to this unbelievable feeling of happiness that is rushing through your veins – by then at the latest you got infected by the surf-virus and don't ever want to stop surfing again.
Learn to surf as an adult with Sunwave Surf School Fuerteventura
You can go now, grab a surfboard, drive to the next beach and try your luck. But then, your first attempts on the board could be a bit disappointing, because for surfing it's the same like for anything else: it looks easier than it actually is! Therefore it's advisable to do your first surf attempts under the guidance of an experienced surf instructor, for example in a
beginners surf course for adults
. Here you can approach to the right position for the take-off and afterwards move on from surfing in the whitewater to surfing the green (unbroken) waves. Besides the right position on the board you also learn the safety rules for the water, so you can act right on the water to prevent yourself and others from dangerous situations.
Sunwave Surf Camp for adults on Fuerteventura
Of course you also can book the full package, which means a surf course for adults with accommodation in one of our three different
Surfcamps Corralejo
. If you want to relax after surfing, we recommend you our
Surf Resort Corralejo
. Here you can enjoy the one-of-a-kind surf camp atmosphere, on the other hand you still don't need to resign to the luxury and the privacy of your own apartment in your surf vacation for adults. So you (of course also together with your partner of friends if you like) can enjoy the sun at the pool area or on the roof terrace or check out the cultural and culinary advantages of Corralejo. If you like to take it even more relaxed after an exhausting day of surfing, our
Surfcamp Villa Antonio
is just perfect for you! You're accommodated in a quiet and authentic canarian village a bit outside of Corralejo. The subtropical garden, which surrounds the villa, is perfect for slackening after the surf lessons for adults and the BBQ area is ideal for relaxed barbecues. You can see, our surf camp for adults has the right offer for every taste.
So don't be too shy to start surfing, in our
surf courses
and
surf camps
we regularly have many adult surf beginners that are willing to learn how to surf – you're not alone ;)
---
16.03.2016 /Categories:
fuerteventura
,
surf camps
,
surf course
---