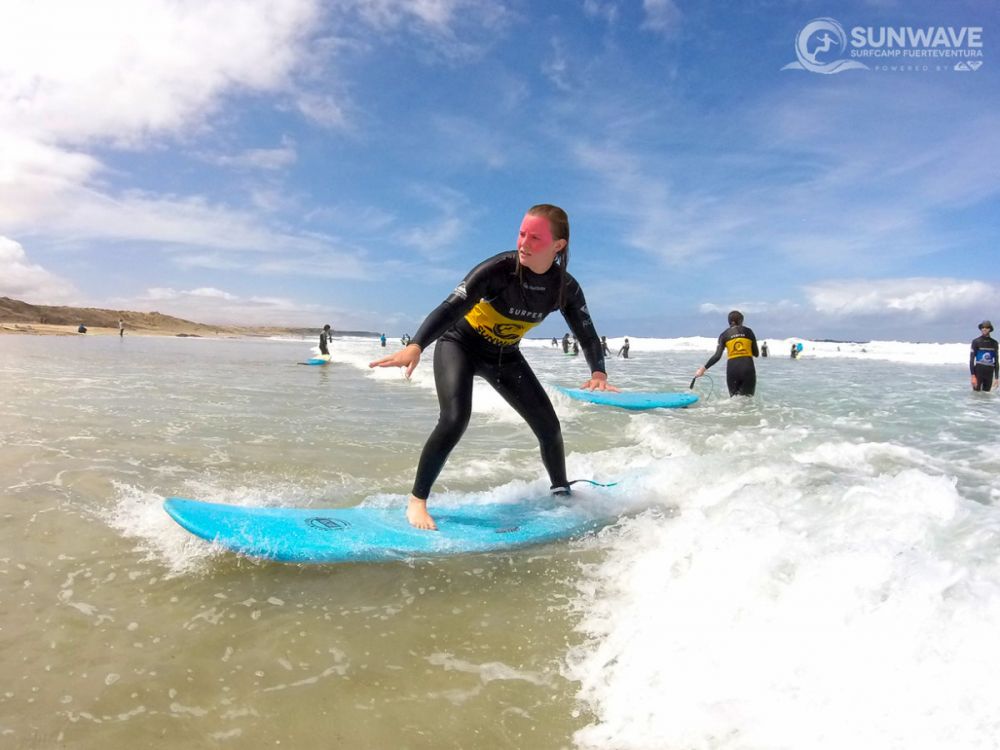 Things to do in Corralejo
You are back from your first surf lesson and you can't really feel, let alone move, your arms and shoulders anymore? Then some yoga or a professional massage will get you back on track and your body ready for another day in the water! Or surfing alone is not enough to let you sleep at night? If you really want to burn off energy, then crossfit is for you.
Free time activities Corralejo
And even though Corralejo is all about surfing, there is much more to do! Explore the (sub) marine life while diving and whale watching or glide over the ocean on a sailboat. And there is plenty to see on land as well! Riding horses along the seaside in the sunset or explore the island inland in a 4×4 with "Vulcanic Experience" – there is always something to do!
Relaxing or Action, whatever activity you are going for, just let us know and we are happy to organise it for you!
YOGA:
Yoga and surfing perhaps have not always been connected to each other, but over time and with the development of the respective lifestyles it became clear that the two are not so different after all and complement each other almost perfectly. Yoga and surfing – that goes together like beach and salt water! As a surfer yoga prepares you for the next session and improves your body control – some yoga poses even seem to be made for surfers and serve as perfect warm-up exercises on the beach. And the other way round, yogis can experience a whole new level of focus, intensity and fun on the board while surfing.
No wonder that pros like Kelly Slater practice yoga to supplement their surfing skills! But regardless of whether you're a pro or beginner – your surfing will definitely benefit from yoga!
Practicing asana (yoga postures) and pranayama (breathing technique) can improve surfing performance. Backward bending give the surfer strength in the back while paddling or duck diving under the waves. Balance positions increase concentration helping staying on the board in critical situations. Twisting positions bring power to turns, forward bending help with flexibility while inversions increase strength and develops awareness. Pranayama increases breathing capacity, important when being held under water.
Come and sign up for a yoga class in our office! Erika, our yoga instructor is a certified and experienced yoga teacher and offers yoga evening sessions every tuesday and thursday convienently in the surf camp.
Improve your surfing through greater flexibility, stronger core muscles, improved breathing, more balance and greater mental focus!
DIVING:
Fuerteventura is the subaquatic paradise of the Canary Islands. The marvellous submarine lava rivers and abundant fish life make Fuerteventura to one of the most attractive diving locations in Europe. The comfortable water temperature, the good climate and the fantastic white sandy beaches make this island a great holiday get-away all year round!
Punta Amanay is a small and family run PADI Resort in Corralejo, in the north of Fuerteventura. Since founding the company in 1992, Gegge and Kristof have dedicated themselves to provide fun and safe diving experiences. Multiple dives are offered every day around the natural park of 'Isla de Lobos". With more than 20 attractive dive sites, 'the island of wolves' is the most spectacular and varied diving area of the Canary Islands. Seasoned diver or novice, Punta Amanay will get you what you're looking for!
HORSE RIDING:
The riding stable Tara is not a normal horse farm, but a non-profit organisation that is operated by the "Asociación Amigos de la Vida Sana" by Fanny Jeckstadt-Borchert. This association rescues neglected horses by buying them off their former owners and then gently leading them back to a normal life. They regain confidence in people and are slowly integrated into riding. This concept is well planed and works out perfectly – all horses are calm and used to people so they offer a great horse riding experience. The guided rides are suitable for beginners as well as advanced. Especially the ride along the cliffs and the spectacular views fascinate riders of every level and age. Highlight: the ride into the sunset.
The rides take 1.5 to 2 hours and back at the house you'll be spoiled with Spanish tapas. You will be picked up at your accommodation and brought back after the excursion.
VULCANIC EXPERIENCE:
Come on board a Land Rover Defender, one of the world's most famous off-road vehicles, and drive into the wild landscape of Fuerteventura!
The tour off the beaten track takes you deep into the unique landscape of the island. Visit peaceful deserted caves and enjoy unique views during an exhilarating ride in a 4×4. Ride up the slope of a volcano to reach the crater in less than 15 minutes. From the top you will enjoy a spectacular 360 ° view over the island.
You will pass by hidden oases, deserted beaches and other spots where you might be able to spot some of Fuerteventura's wildlife. After driving through the rugged lunar landscapes of Fuerteventura, you can recharge your batteries with a tasty picnic in the quiet Wildlife Reserve.
Including: Individual lunchboxes, hot and cold drinks, binoculars, walking sticks, windbreaker
CATAMARAN TRIPS:
The Ocean People – Corralejo Catamarans offer a luxury spacious catamaran with a maximum of 10 people per trip. They organize tours to Isla de Lobos, where you will also have the opportunity to do some kayaking, snorkelling, fishing and SUP.
They have an expert skipper and crew to ensure your safety and enjoyment. With drinks and snacks, we are sure you will have a fantastic day out on the luxurious catamaran!
If your interestes in special live music trips, surf trips and other services, please ask for details!
MOUNTAIN BIKE:
Easy Riders Fuerteventura is one of the top official bike rentals and bike suppliers of Fuerteventura. Due to its location, the climate and the beautiful landscape the island of Fuerteventura is the perfect place for cycling trips of any kind. Easyriders offer you bicycles for all levels and tours in every difficulty.
For small or large cycling trips in the north of Fuerteventura you can discover rough coastlines, wild volcano landscapes, dried out riverbeds and large sand dunes. Experience the incredible landscapes of Fuerteventura on our Road Bike Tours or accompany us in our relaxed bike rides to a 800,000 years old lava tube in Villaverde! Especially recommended is a trip to the beautiful and uninhabited island of Los Lobos.
On Lobos you can enjoy an unforgettable day! From the port of Corralejo you are sailing through the crystal clear waters along the dunes to Lobos. There you can explore the island with its lagoons, the lighthouse and its single volcanic crater on a 15km tour.
The hiking and biking trails take visitors from the jetty through a diverse landscape to the lighthouse at Punta Martino and to the top of the mountain Caldera. There is a small, sheltered lagoon, Playa de la Concha, which – with its white sandy beach – is perfect for sunbathing and swimming.
Surfer pictures 9.5.17
Click the blue button below to be directed to all the surfer pics from 9.5.2017 You can download these for free, just remember to hashtag #sunwavesurfcamp on social media. Enjoy!
Click the blue button below to be directed to all the surfer pics.
You can download these for free, just remember to hashtag #sunwavesurfcamp on social media. Enjoy!
Surfer Pictures
Surfer pictures 11.5.17
Click the blue button below to be directed to all the surfer pics from 11.5.2017 You can download these for free, just remember to hashtag #sunwavesurfcamp on social media. Enjoy!
Click the blue button below to be directed to all the surfer pics.
You can download these for free, just remember to hashtag #sunwavesurfcamp on social media. Enjoy!
Surfer Pictures
---
12.05.2017 /Categories:
fuerteventura
,
surf camps
---