Restaurants Corralejo

Corralejo has a huge range of international cuisine to offer for any budget and any taste. Along the main road you'll find anything from Pizza and Paella to Thai Food and Sushi. In the old part of the town and the area around the harbour of Corralejo you'll mainly find small Canarian bars serving fresh caught fish and traditional Tapas dishes. There are also a lot of small cafés and bakeries spread around town providing you with 2€ breaksfasts and coffee to start your day right before going out to surf!

But not only Corralejo, also the idyllic Canarian Village Villaverde is not lacking bars and Restaurants, where you can find even two award-winning Canarian Restaurants!

And because we know that with this wide selection it's hard to decide where to go we put together this guide to our favourite places. Of course you can also just ask whenever you see one of us – we're happy to help and eager to find you the best place to eat!

Citrus

Since 2008, Citrus Surf Cafe has been providing great food and a warm relaxed atmosphere for Corralejo's more laid back locals and visitors. Whether it's the first coffee of the day, lunch, a delicious evening meal or simply a beer and a surf on the internet using their free wi-fi, Citrus is the perfect place to be. Citrus offers a delicious menu with dishes from around the world. Prepared using the finest and freshest ingredients they offer a wide variety of choice from traditional lasagne, spicy green thai curry to their amazing homemade burgers. If it's just a snack you fancy then why not try one of their wraps or gourmet baguettes.

In Citrus we meet every friday to enjoy their fantastic BBQ together. Come join!

---

Boardriders

The whole concept of "Boardriders Bar and Grill" is to let you feel "at home" and enjoy some nice food and drinks, watching surf videos and listen to live music. In the open kitchen the chefs are working their magic and provide you with food from all over the world. Whether you fancy Asian, Argentinian or Mexican food – with Thai Curry, Nachos and Fajitas, Burgers, Steak and much more you will definitely find the meal of your choice. Beverages include cocktails and fine wines as well as beer and soft drinks.
Boardriders is located at the "El Campanario" Shopping Center just around the corner from our Surfcamp Corralejo.

Here we enjoy our weekly burger and fajita night on Wednesdays.

---

Secreto

Secreto del Sur was founded by two professional aquatic sportsmen in 1996 in Fuerteventura. The mild climate and optimum aquatic conditions on this island are perfect for the innovative concept of Secreto del Sur – linking natural, fresh ice cream pleasure with trendy water sports.

Secreto del Sur created a whole new ice cream experience by inventing the first "Secreto Energy Ice" in 2001. What makes it unique is the use of natural ingredients from South America. These ingredients offer a variety of uses and contribute appreciably to the healthy and well-balanced nutrition of sportsmen and women, as well as other health-conscious and active people. Additional products like healthy drinks, or powder for making your own energy drinks, meanwhile extend our varieties of products. Not only healthy and innovative – it's also super delicious (and we're speaking from experience!).

---

Churrasqueria Boa Vida

Cuisine:

Brasilian


Opening hours:
Mon – Sun:
1pm – 4:30pm
7pm – 11pm

A Churrasqueria is a traditional south brasilian restaurant serving especially grilled meat (Churrasco). Nine different sorts of meat are getting cooked under the grill on skewers where a waiter cuts them directly on your plate. For only 12€ you can enjoy best quality meat and typical brasilian sides (like rice, beans, salads, fries and baked bananas) on an all-you-can-eat buffet.

---

Avenida

Cuisine:

Spanish, Fish & Seafood


Opening hours:
Thur – Tue: 6:30pm – 11pm
Wednesdays closed

Avenida is known for its delicious fresh fish and sea food. But meat lovers don't worry – with a huge variety of different kinds of meat there will be the perfect dish for everyone. In great rustic Canarian atmosphere you can enjoy your dinner side by side with the locals. The portions are more than enough and the meals start with only €5,50 for grilled squid. To get a table it is best to be there before 7pm as Avenida tends to get crowded.

---

Pizzeria La Mamma

Besides delicious home made pizza and fresh pasta, the Argentinian Gustavo also serves mouth watering grilled meat, local specialties and gourmet food in a quiet ambience and with good value for your money. Argentinia, Italy or Spain – since 1994 you'll find an excellent choice of meals and delicious desserts and wine

---

El Sombrero

Cuisine:

Spanish, Swiss


Opening hours:
Thur – Tue: 3:30pm – midnight

Already for 14 years El Sombrero is one of the best adresses for anyone looking for swiss and spanish cuisine. It is beautifully located on the beach promenade overlooking the bay of Corralejo – with elegant spanish interior. You will get served by the swiss-spanish couple Queta and Toni. They are offering specialties you won't be able to find anywhere else on Fuerteventura – regardless of whether it is best quality steak or traditional swiss fondue.

---

El Anzuelo

Cuisine:

Canarian, Fish


Opening hours:
Mon – Sun: noon – 11pm

El Anzuelo is located right next to the beautiful beach promenade providing a beautiful view over the harbour. So the freshly caught fish doesn't have to travel a long way to get on your plate. El Anzuelo is specialized in fish and seafood as well as typical Canarian dishes. But with their big range of fresh food they also offer steak and various starters, salads and soups. You will also find an international wine menu including some of the delicate Canarian wines of Tenerife or Lanzarote.

---

Sotavento


Cuisine:
Spanish, Italian, Fish

Opening hours:
Mon – Sun: 10am – midnigh

The restaurant is located on the beach promenade overlooking the harbour of Corralejo. With a stunning panoramic view and a huge selection of dishes on the menu including fresh fish, pizza, tapas, pasta and meat you'll have a good, relaxing time at Sotavento. Food is served throughout the day until late at night. You get good value for your money and you can enjoy the great view and the relaxed joie de vivre of the Canary Islands.

---

El Horno

Cuisine:

Canarian


Opening hours:
Mon – Sun: 12:30pm – 11pm

The village of Villaverde is known to host some of the best restaurants of Fuerteventura. El Horno (= "the stove") offers typical Canarian cuisine and particularly specializes in dishes from the wood stove. Outstanding is the grilled meat, but also fish and various appetizers are the second to none. El Horno is frequented by locals as well as well informed tourists and is an absolute must, especially for meat lovers.

---

el moral

Cuisine:

Canarian


Opening hours:
Tue – Sun: 12:30pm – 11pm

In addition to El Horno El Moral is another upscale restaurant in Villaverde. With a large terrace and small, nicely furnished rooms inside you can enjoy excellent food in a simple, very cozy atmosphere. El Moral combines traditional dishes with the latest cooking trends and a fantastic service.

---
Looking for your surf images?
Surf Images
Fuerteventura
NEWS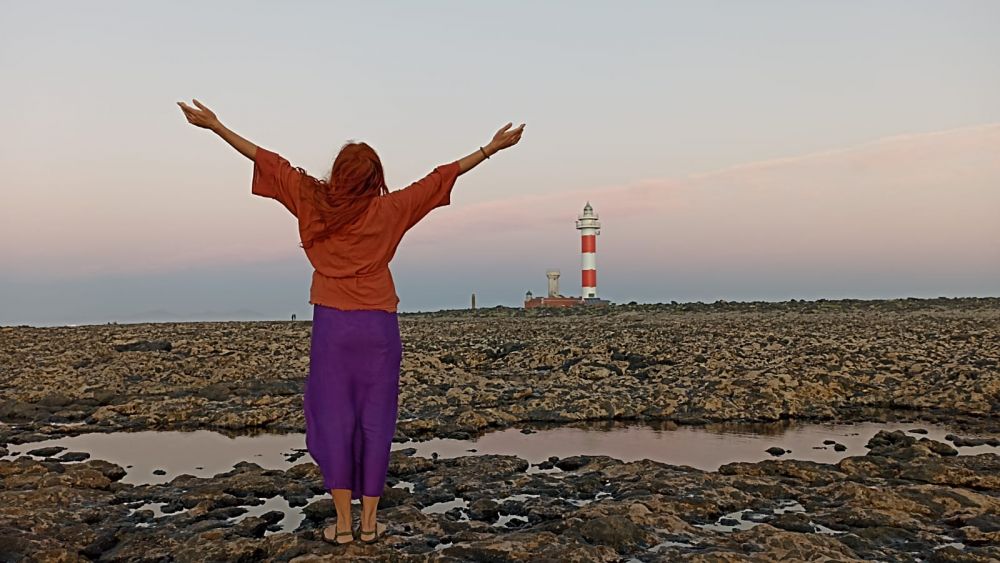 20.04.2023
Post about nomad lifestyle and similarly to surfing lifestyle
Read more ...
---
02.03.2023
Todos soñamos en ser buenos surfistas y llegar a hacer las maniobras más radicales. Esto puede guiarnos a tomar una ...
Read more ...
---
13.02.2023
We all dream about being really good surfers and learning how to do the most radical maneouvers. This can guide us to a ...
Read more ...
---